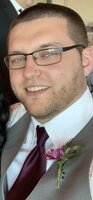 Kyle C. Madden
Formerly of Middlesex, NJ – Kyle Christopher Madden, died suddenly at his home in Rochester, NY on November 23, 2021. Born in Somerville, Kyle lived in Middlesex until 2012, and then resided in New Brunswick for a year prior to settling in Rochester, NY.
He currently was a service writer and mechanic for various dealerships in the Rochester area. Having a love for cars, Kyle was extremely fond of Jeeps. He had a passion for hunting, fishing and camping.

Kyle will always be remembered for his big heart, great sense of humor and his willingness to help anyone in need. He enjoyed line dancing, playing the piano and bass, and could always be found working on Jeeps and computers.
A devoted father to his son Tanner, Kyle also leaves behind his father and step-mother; John L. Madden and Barbara of Middlesex, mother Kristi Waldron and his loving girlfriend Katelyn Burba, both of Rochester and by his maternal grandfather James Gatlin of TX. He will also be missed deeply by his many aunts, uncles, cousins and friends he had made along his short twenty-eight years here with us.
Visitation will be held on Friday, December 3, 2021 from 3:00pm until 8:00pm at Middlesex Funeral Home, 528 Bound Brook Road, Middlesex, NJ 08846. On Saturday, December 4, 2021, family and friends may gather directly to Our Lady of Mount Virgin Church in Middlesex for a 10:00am Funeral Mass followed by burial at Resurrection Burial Park in Piscataway.
In lieu of flowers, donations may be sent to Tanner Madden, c/o Middlesex Funeral Home, 528 Bound Brook Road, Middlesex, NJ 08846. These donations will be directed to a trust fund to help his healthcare needs in the future.