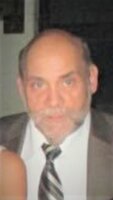 Richard Charles Romeri
Richard Charles Romeri, 63, passed away suddenly at his home on December 18, 2021. Rick was born in Plainfield to the late Peter and Maureen (Tombasco) Romeri and lived in Dayton until settling to South Plainfield in 2007.
He worked as a limousine driver for ABC Limousine and was the former owner of the City Limits Bar, both in North Brunswick. Rick loved sports, especially the New York Yankees and enjoyed trips to Atlantic City. As a wood worker, Rick loved tinkering with his hands and making gardening tools and furniture.
Rick leaves behind his brother Gary Romeri and his wife Susan Romeri of South Plainfield, two step-sons, Michael and Robert Dougherty and their mother Darla Talbot.
Visitation will be held in McCriskin-Gustafson Home for Funerals, 2425 Plainfield Avenue, South Plainfield, NJ 07080 on Tuesday, December 21, 2021 from 4:00pm until 8:00pm and on Wednesday, December 22, 2021 beginning 9:15am.
Funeral services will begin in the funeral home on Wednesday, December 22, 2021 at 9:45am followed by a 10:30 am funeral mass at Sacred Heart Church in South Plainfield. Burial will take place at Hillside Cemetery in Scotch Plains.
In lieu of flowers, memorial donations sent to DaVita Dialysis (www.davita.com) would be appreciated.