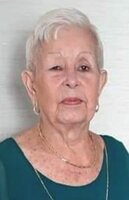 Leonilda Novas
Piscataway – Leonilda "Nelly" Novas, 89, passed away peacefully in her sleep on June 14, 2022. Born in Yauco, Puerto Rico to the late Elvira Figuera Santiago and Galo Ruiz, Nelly resided in Puerto Rico until 1952 when she immigrated to Manhattan, NY. In 2000, Nelly moved to Piscataway to be closer to her family.
Nelly loved spending time with her family. Above all things, she enjoyed taking care of and cooking for them and whenever she could, she always extended an offer for a cup of coffee, even to the little children.
Predeceased by her husband Luis, Leonilda leaves behind her loving family; daughters Awilda Quinones and Brunilda Echevarria both of Piscataway, four granddaughters; Michele Hutchinson and Julie Martell and husband Kevin of Piscataway and Denise Delpome and husband Dennis and Liza Guetahoun and husband Danny of Middlesex. She will be missed dearly by her 8 great grandchildren; Jordin, Jasmine, Christian, Troy, Anissa, Isabella, Angelina, and Sabrina.
Visitation will be held at Piscataway Funeral Home, 18 Stelton Road, Piscataway, NJ 08854 on Friday, June 17, 2022 beginning 9:00am. A concluding prayer service will begin at 11:30am and cremation will follow privately.
In lieu of flowers, memorial donations sent in Nelly's name to the Alzheimer's or Dimentia Foundation would be appreciated.