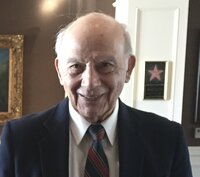 Vincent J. DeFillipo
Vincent DeFillipo, 99, passed away on Sunday, September 18, 2022 in the Parker at Monroe.
Born and raised in South Plainfield, Mr. DeFillipo, resided in North Plainfield, Mantoloking and Lakewood before relocating back to South Plainfield in 2012.
A Veteran of WWII, Vince served in the U.S. Army Air Force and was honorably discharged. Following his honorable discharge, Vince graduated with honors from Rutgers University in 1949 with a degree in electrical engineering. Vince entered the workforce with the government and over the course of his career was awarded several Communication Patents.
Following his retirement, Vince began following the stock market often trading stocks for a profit. In addition to his enjoyment of the stock market, Mr. DeFillipo was an avid golfer also enjoyed spending time with his family.
Predeceased by his wife Lucy and siblings, Edith, Philomena, Henry, Louis, Alfonso (Chick) and Arthur. Vince is survived by his son, Kenneth and his wife Rosa of Gladstone as well as several nieces and nephews.
Visitation will be held on Thursday, September 22, 2022 from 5-8pm in the McCriskin – Gustafson Home For Funerals 2425 Plainfield Ave. South Plainfield, NJ 07080.
Funeral Services will be held on Friday, September 23, 2022 beginning at 9:15am in the funeral home followed by a 10am funeral mass at Sacred Heart RC Church, South Plainfield.
Following mass Vincent will be laid to rest alongside his beloved Lucy at Holy Redeemer Cemetery, South Plainfield.